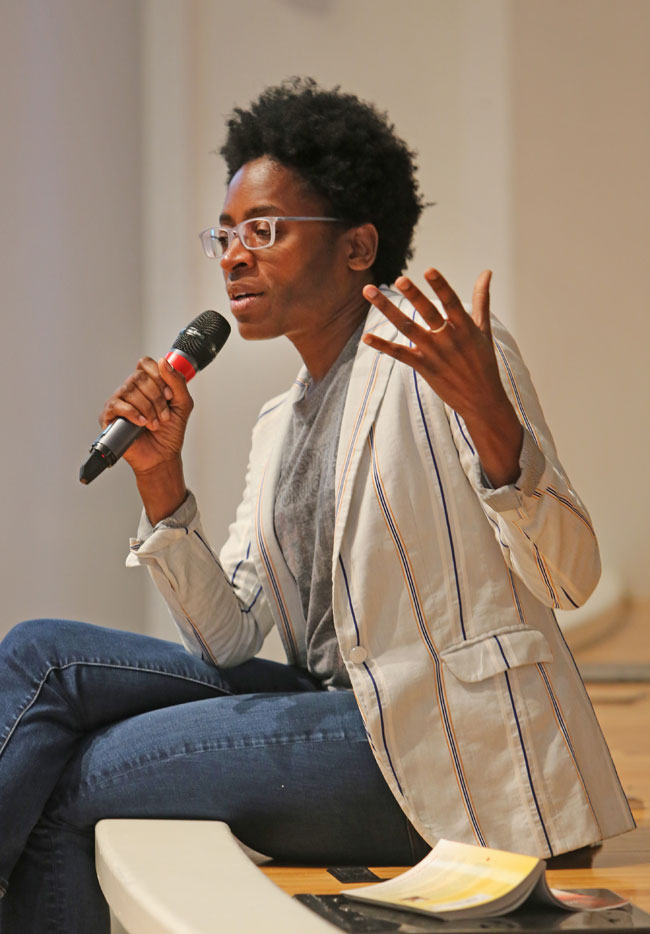 Jacqueline Woodson
Personal Background
Jacqueline Woodson grew up in a diverse neighborhood in
Brooklyn
, where she lived with her grandmother and sister. She also visited
South Carolina
as a kid. The noticeable differences in the two influential places have helped her in writing about various backgrounds. She remembers looking for literature that was about African American people and characters, and she loved writing and reading since a very young age (Brown, 2002).
Woodson graduated from
Adelphi
University
in
Long Island
, but already started writing a manuscript by this point. She took lessons on writing children's books and soon was discovered for
Last Summer with Maizon
. She accredits her start in being recognized to acclaimed editor Wendy Lamb (Brown, 2002).
Today, Jacqueline Woodson is happily living in New York with her daughter, son, and life partner. She continues to transcend children's literature through her own experiences as a child and her imagination that reflects young adults (Scholastic, 2012).
Contribution to Literature
Woodson's contributions to literature include picture books, short stories, poems, and novels. She writes about African American characters from her own perspective. She doesn't limit her stories to a specific gender, and expands into various multicultural and controversial topics. Her book, Under the Melanin Sun is written from a male perspective. One of her anthologies is written from a transgender perspective. In her book Hush, she writes about the external struggles of an African American family as well as the internal struggles of each character in that family. She writes about justice and influences her readers through her strong voice and noteworthy plot lines, regardless of their controversial ideas (Scholastic, 2012).
In efforts to provide an overall view of Woodson's award winning literature and contributions to young readers, her personal website is
http://www.jacquelinewoodson.com/awards.shtml
. The amount of awards that she has received for her books is endless. Several books received multiple awards like
Hush
(National Book Award Nominee, etc.),
Miracle Boys
(Coretta Scott King, etc.),
Locomotion
(SLJ Best Book, etc.),
Coming Home Soon
(Caldecott Honor, etc.), and
The Other Side
(Booklist Editor's Choice, plus) (Woodson, 2012).
Conclusion
Teachers use Woodson's literature in the classroom to combat racial issues that still emerge today. Her fresh perspective on young adults provides elements in curriculum that allow students to understand plot development and imagery. I chose Jacqueline Woodson for the author study because I read her books with my eighth grade Language Arts class and I didn't know very much about her life. Every chapter book I've picked up that Woodson wrote, I have been unable to put it down. Her writing flows easily and I become emotionally involved with the characters of her novels.
Brown, J.M. (11, February 2002). From outsider to insider. Publisher's Weekly.
Scholastic. (2012). Jacqueline Woodson. Retrieved from
Woodson, J. (2012). Jacquiline Woodson: Books for children and young adults.